TIMESHEETS
Track time your way using the many options offered by PowerTime.
Join us on a tour through PowerTime's timesheet system, and we'll show you how its simple, flexible, and fast design can help your company process its timesheets with maximum efficiency.
WEEKLY TIMESHEETS
The weekly timesheet view puts all the tools you need to the front-and-center.
Your entire week's charges and hours are right here, and you can add or delete them with just a few clicks. Check neighboring or distant pay periods from the navigation menu, or navigate to neighboring features – such as your Time Off requests – with one button press. Your leave balance sits directly beneath the time sheet, so when you need time off, you'll never have to ask anyone "How many vacation hours do I have?"
We've distilled timesheets down to exactly what you need them to be…
No frustration, no confusion, no problem.
DAILY TIME ENTRY
Spend a lot of time at the punch clock? Prefer to track your hours on-the-fly? PowerTime handles that too.
The Punch Clock page handles the entry and management of your time pairs, ideally working hand-in-hand with dedicated punch clock locations. You can use it as a live punch clock where employees punch in and out as they work different charges, and to create a record of your employees' arrival and departure times. Want to see when and where the time pairs came from? The Transaction Log on this page has that answer and more.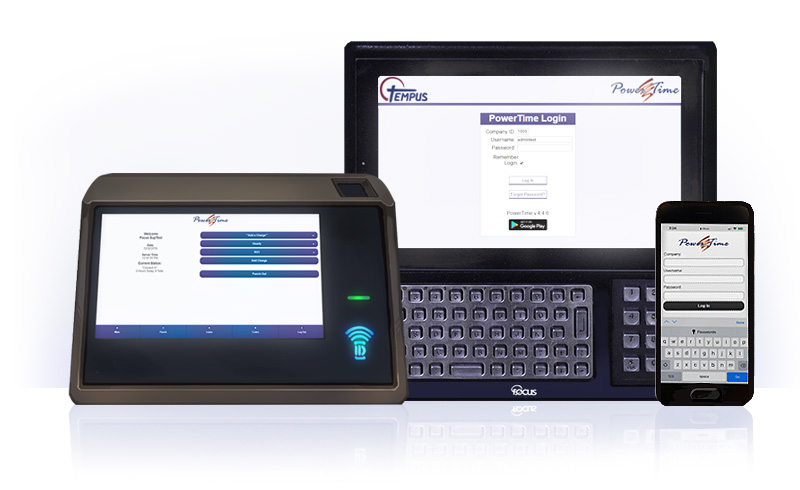 PowerTime is available for both Android and iOS users!
If your organization is using or plans to use PowerTime, you can rest assured that they'll have the ability to use it anywhere that they have a mobile or wi-fi connection.

EASY TO USE
PowerTime's Timesheet pages should feel familiar to you and your employees right off the bat. That's how intuitive it is to record your hours and charges.
The recording of many days worth of hours is lightning-fast. Many of us have suffered through time entry in other, less-optimized time and attendance systems, and we have no desire to inflict that on you. And you can put the calculator away, because PowerTime determines and displays your totals automatically.
With only a little bit of training and instruction, your company and employees should be up and running in no time.