ADMIN TOOLS
PowerTime's Administrator Menu is a shining example of the ideal tool for any company or organization.
With just a little bit of configuration, it's easy to set up a system that will suit the needs of most small companies. But in addition, PowerTime also boasts an incredible versatility that allows almost any organization to transition to PowerTime seamlessly, and even discover new conveniences that can make your experience even better.
On this page, we'll show you a limited sampling of some of PowerTime's many features. If you have in-depth questions about a listed feature, or want to learn whether PowerTime supports a specific tool or setting that might not be shown here, don't hesitate to
send us a message by following this link and filling out the form
.
COMPANY SETTINGS
This is your first stop when configuring PowerTime for usage, and it's very straightforward.
Here you'll fill out your company's basic information that will be reflected on paystubs and other documents, as well as a few customization settings, such as:
•User Password Security
•Log-in Welcome Message
•Timesheet Signing Disclosure
•Mobile App Access Permission
•Sub-company Set-up
•Punch IP Whitelist
•And more!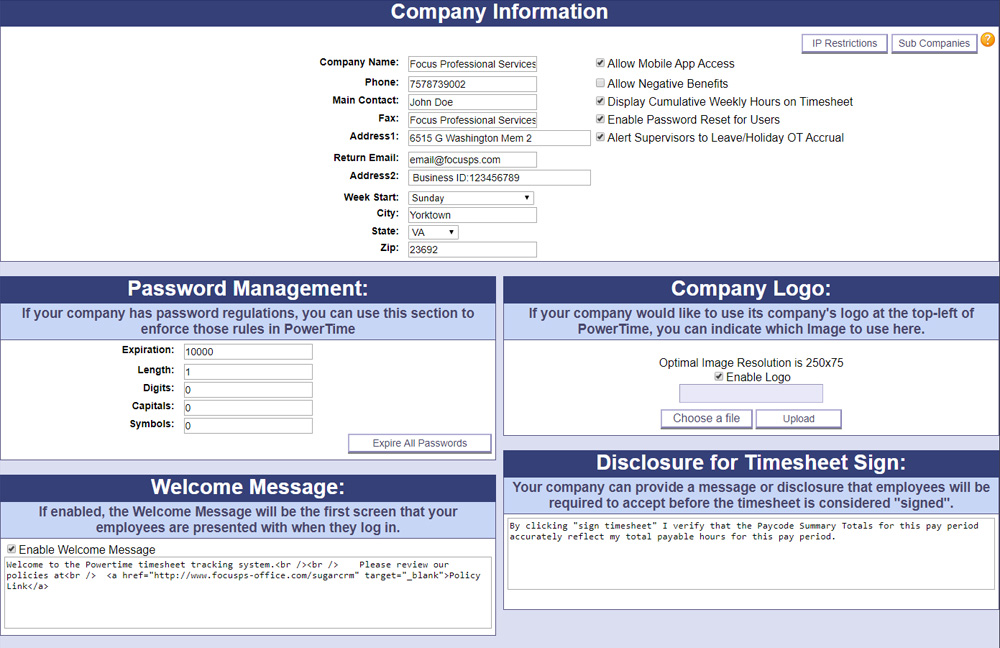 PAY CODES, CHARGES, AND MORE
So you've got your company created, what's next? You'll spend a little bit of time configuring your Pay Codes and Charges, and optionally, extra Attributes or Miscellaneous Data Fields that might be used by your Payroll System.

•Pay Codes can be as minimalist or as numerous as your company needs. Employees' hours on each Pay Code are exported to your Payroll System.
•Charges are used by employees when they fill out their Timesheets, to create clarity in how they are spending their time. You can create as many or as few Charges as you need, and each Charge is paired with one of your Pay Codes, so user's Charges are translated to your Payroll System automatically.
•Attributes are extra pieces of information that employees provide when they add a Charge to their Timesheet. These can be optional or required, and example uses include Location, Reporting Unit, or Cost Center.
•Miscellanous Data Fields can be used store extra information that may be exported to your Payroll System. Examples include associating GL Account Numbers with certain charges, or adding information to employees, such as a Home Department.
ROLE MANAGEMENT

Roles are one of the ways in which you will manage your employees' responsibilities and permissions in PowerTime.
PowerTime sorts employees into a hierarchy of three tiers: Regulars, Supervisors, and Administrators. You can create more roles if you wish to, and you can configure each of them to have access to certain features of PowerTime, such as modifying Timesheets, or access to certain Report types or Admin sections.
GROUP MANAGEMENT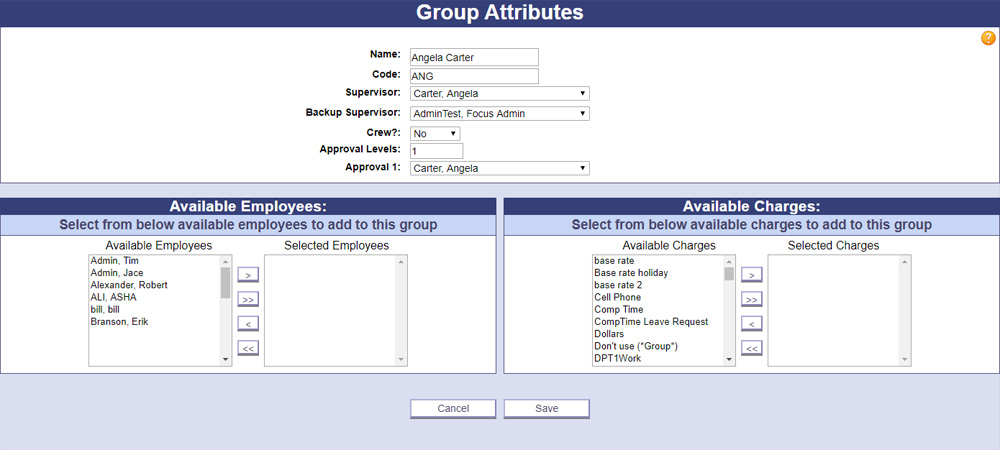 Groups are the second way in which you can manage your Employees' usage of PowerTime.
When you create a Group, you will give it a name and assign a Supervisor (and an optional backup Supervisor). Each group has its own rules and settings for you to modify. For example, you can declare how many approvals are required for employees' Timesheets in that group, and which Charges employees in the group will have access to. And of course, you'll also add your employees to their respective groups.
When working together, Roles and Groups make a convenient framework with which to organize your company's members, saving you time, and helping you make things either as simple or as detailed as you require.
MASS MESSAGING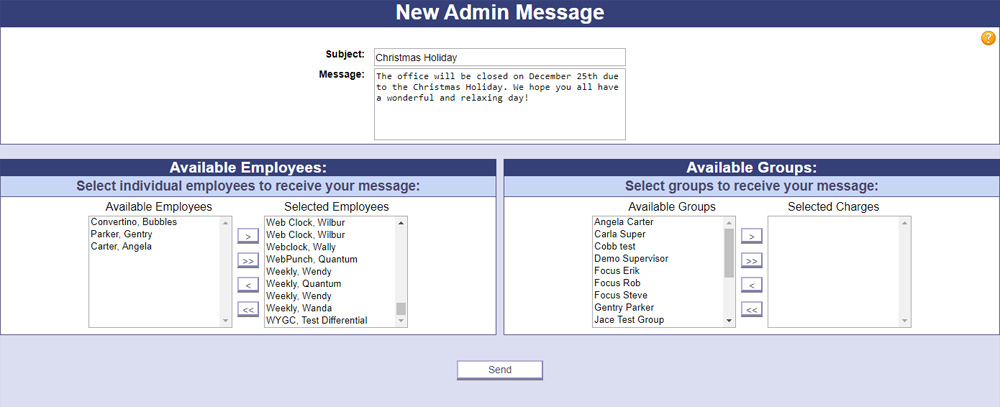 While Supervisors can send messages to employees in their group, Admins have the ability to send messages to any number of employees at once.
Individual messages can be sent from the results of the Employees Search page, or Admins can use the Mass Message page to compose a message and add as many individuals or groups to the recipients list as needed. You receive the benefit of further consolidating your vital communications, and employees are less likely to miss messages when they're available through same platform that they use for everyday timekeeping.
EMPLOYEE SEARCH

•Does your company have a lot of employees, and the list is much too daunting to search by hand?
•Or do you need to know which employees use a certain payroll or holiday policy?
•Do you have a lot of timesheets to approve and lock at once?
•What if you're just curious how many Matthews work at your company?
On the Employee List page, all of these conditions and more are valid search options. Mix and match them according to your needs, and with laser precision, you can have as many or as few employee entries at your fingertips as you desire.
Once employees have been found on this list, Admins are just one click away from viewing, locking, or unlocking their timesheets and expenses, managing approvals, editing their information or settings, sending a message, or deleting or deactivating the employee from PowerTime.
PAYROLL POLICY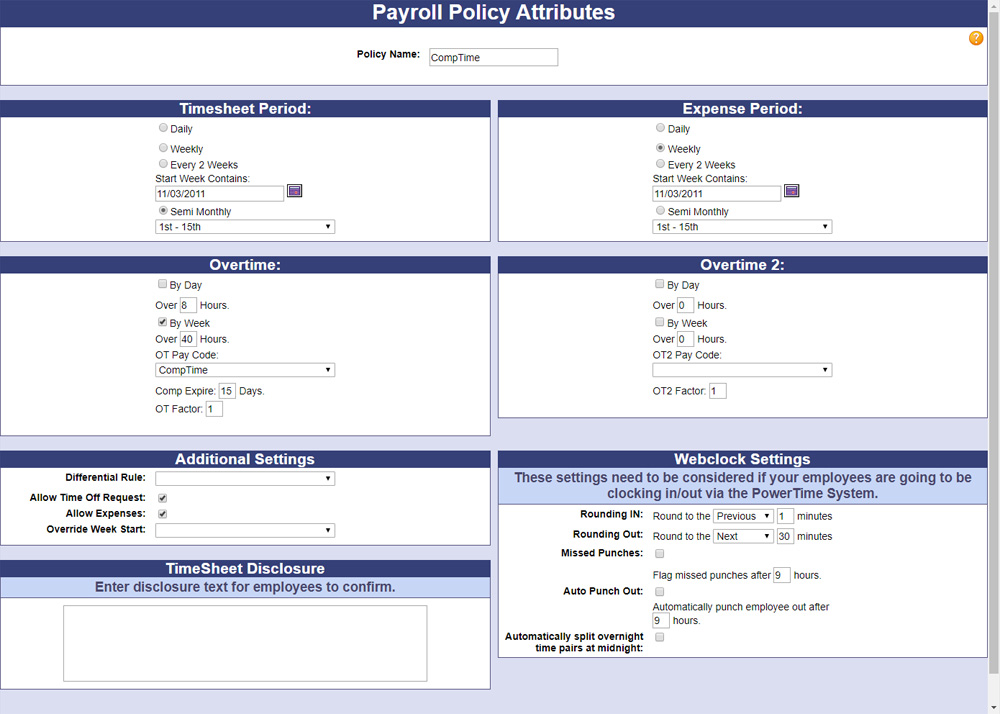 Creating Payroll Policies is a necessary step of configuring your PowerTime system, but it's not a hard task. Small companies may only need one catch-all policy, while large or complex company structures may enjoy the convenience of many different policies for different types of employees or shifts.
For any given employee, their assigned Payroll Policy determines:
•The length of each Timesheet or Expense Period
•Overtime conditions and rules
•Rounding and alerts for the Web Punch Clock
•Access permissions for Timesheets or Expenses
•And others
Some plans of PowerTime also support Differential Rules, which you can apply on a per-Payroll Policy basis. Differential Rules modify your Paycodes during certain days of the week, and times of day, allowing eligible employees that work those times to accumulate differential hours at a rate that you choose.
HOLIDAY POLICY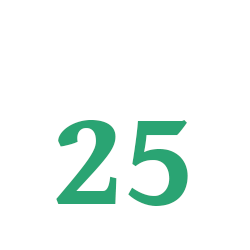 If your company is one that gives time off to employees on dates like Christmas, Thanksgiving, or New Year's, the Holiday Policy feature can help you manage that.
When you create a Holiday Policy, you'll fill it with the dates that you've decided should be holidays. That policy can then be assigned to certain employees, and when those dates arrive, they will automatically receive the number of holiday hours specified. You can create as many policies as you need, so that you can set up different holiday schedules for separate departments or types of employees. Holiday employees can be applied en-masse via the Import feature, or manually assigned to individuals by modifying their employee settings.
IMPORT AND EXPORT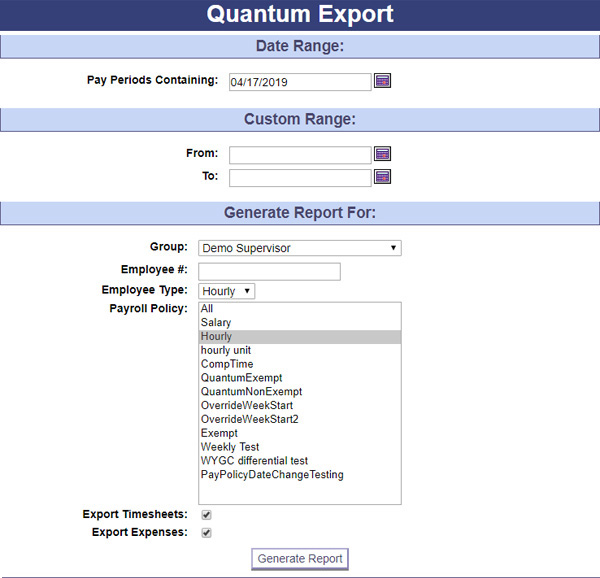 The Import tool helps you quickly transfer data into PowerTime, whether you're creating your first employee list or keeping your existing data up-to-date. Some data types include:
•Employees and/or Groups
•Pay Codes, Charges, and/or Attributes
•Paystubs and W2s
•Leave Balances
When it's time to get Timesheet and Expense information in PowerTime transferred back to your Payroll system to be paid out, the Export Tool supports many common Payroll file formats. If you'd like to know if yours is supported, all you need to do is fill out our contact form to send us a message. For precision, Exports can be configured to specific date ranges, employee numbers, employee types, or payroll policies.
…AND MORE!

There's many more options and tools to discover, and we can't possibly cover them all here. As with our other features, they offer ways to modify of expand your experience with PowerTime to match your requirements, and scale easily with your company. PowerTime's intuitive interface and built-in instructions will help you get started with anything in the Admin Menu.
If you're looking for a particular feature or option that you might not see here on this page, don't hesitate to send us a message by following this link and filling out the form.